Natasha Ouimet
Having danced in a variety of styles (such as ballet, flamenco and tap dance), Natasha discovered Lindy Hop and joined the Swinging Air Force, a Montreal based Swing Dance team, in 2005. Natasha coached several of the Swinging Air Force teams and with her partner Patrick Szmidt (whom she started working with in 2007) has also coached artists of the Cirque du Soleil show Banana Shpeel.
She has appeared dancing in several Canadian television shows; La Vie est un Cirque, La Culture pour ou Contre, Ben et Jarrod, Relève en Folie, and L'heure de Gloire and in a couple of music videos; Sam Roberts "Them kids" and Caravan Palace's "Dramophone".
She is proud of the many titles she holds won at events such as ILHC, ALHC, Camp Hollywood, CSC and ESDC.
She tours the world with Patrick, her dance partner and husband, to spread the love and knowledge of Lindy Hop as well as teaching local classes in Paris, France.
In class, Natasha focuses on clear and detailed teaching methods while adapting to her students and making it fun for everyone.
Patrick Szmidt
In 2002, Patrick moved briefly from Paris to Montreal for his studies in organic chemistry. While looking for way to make new friends, he discovered Lindy Hop. He immediately got totally hooked and when he got back home to Paris, he started spreading his knew found passion.
In 2006, he spent several months in Israel starting up a local scene there. Later that year, Patrick wound up moving back to Montreal to teach at Studio 88-SWING and join the Swinging Air Force (SAF Sqad). It's at this time that he met and partnered up with Natasha Ouimet.
Since then, they have won many titles at ILHC, ALHC, Camp Hollyhood, CSC and ESDC, to name a few. Their talent and reputation as dancers and teachers earned them the opportunity to work with the Cirque du Soleil in 2009, who hired them to train artists from "Banana Shpeel". They have also appeared in several Canadian television shows and a couple of video clips; Sam Roberts "Them Kids and Caravan Palace's "Dramophone".
In his effort to spread Swing Dancing worldwide and build the community, Patrick not only travels all around the globe to teach the dance but also frequently films and uploads on-line, free instructional and event coverage videos.
In class, his high energy and enthusiasm is contageous and his clear and detailed teaching methods are always very much appreciated.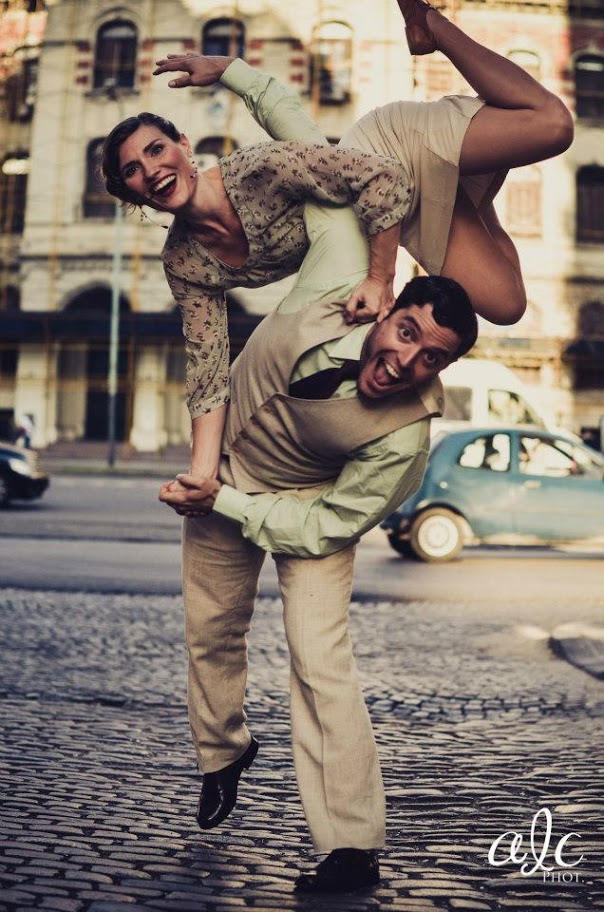 how to fly high with style.
Helping to build the Swing Dance community is very important to Patrick and Natasha. They like to contribute with their free online instructional videos and their event coverage. Check out these videos
Well known for their gravity defying aerials, they also have free online instructional videos covering some of those.
Watch them dance